Sample Reference: Decision Support System Elbe-DSS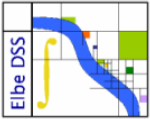 The German Federal Institute of Hydrology (BfG) funded the development of a Decision Support System (DSS) for the Elbe river system. The aim of the project is to couple simulation models that were developed for the Elbe river system to a DSS that supports the user on decisions concerning the management of the elbe catchment. The great flooding in summer 2002 demonstrated the importance of this subject.
The project is realised by an international consortium of institutes and companies. It has been started in march 2002 for a period of 34 months.
Intevation was contracted by University of Osnabrück to integrate the georeferenced simulation system GREAT-ER within the Elbe-DSS. For this purpose GREAT-ER has been extended to include diffuse input of substance in the river system.